Event name: rocKastle
FREE Entry
Description:
The promotional and discovery event for the territory will take place in Lettere (Na) on days 5 and 6 April 2014. The goal is to connect people to the territory through different channels such as CULTURE – ART – NATURE – SPORT and KM0 GASTRONOMY.
In the complex and fascinating scenery surrounded by the Gulf of Naples, Vesuvius and the Lattari Mountains to act as a hinge to various aspects, listed above, will be the ancient ruins of the Lettere castle, collection and welcome point.
Stay connected to the event via FaceBook.
The meeting is aimed at two categories of users:
Sports (climbers and trekkers)
Visitors (adults and children)
There will be conducted a climbing competition and visitors entertainment along a path on the whole area. You will be able to:
visit a photo exhibition in the rooms of the Castle;
guided tours of the ancient ruins of the Castle and nature trails;
taste km0 wine and food.
Program:
05.04.2014
5.30pm presentation of the event within the old castle walls
6.00pm photo exhibition opening «Deshi Basara» by Enrico De Luca
6.30pm celebratory aperitif of the event
At the end of the presentation you will be able to sign up for the competition.
06.04.2014
For COMPETITION PARTECIPANTS
9.00am registration (at the Castle)
10.00am start race (Lettere cliff – central sector)
4.30pm end race
5.00pm delivery of race form (meeting point)
5.15pm visit to the Castle
5.30pm Award for the best 3 classified by category (at the Castle) and celebrations
For VISITORS
10.00am visitors welcoming (at Lettere Castle) with stands for gadgets and tastings
10.30am guided tours of the castle of Lettere and of the photographic exhibition «Deshi Basara» curated by Enrico De Luca
11.00am trekking to the Benedictine caves (where will be the competition)
12.00am parking collection for who reserved the lunch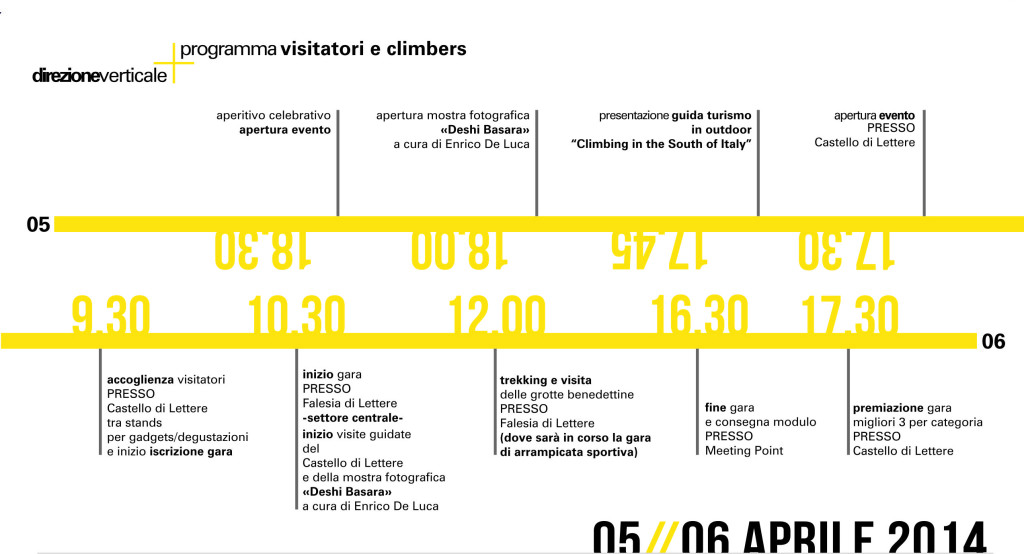 For participants outside the Region and Nation rates discounted for the staying dedicated to the event:
POMPEI CAMPING VILLAGE
Via Plinio , 113 Pompei (Na)
[email protected]
Tel. (+39) 0818622882
We thank the sponsors and partners who made the event possible with their fundamental contribution.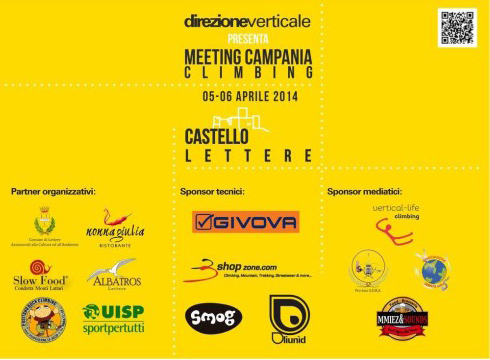 Organizing Partners
Municipality of Lettere – Departments of Culture and Environment and Tourism
Slow Food – Condotta Monti Lattari
Albatros Lettere
Association La Selva Positano
National and Regional Uisp Campania – Unione Italiana Sport Per tutti
Technical Sponsors
Givova
Bshopzone.com
Smog climb
Oliunìd