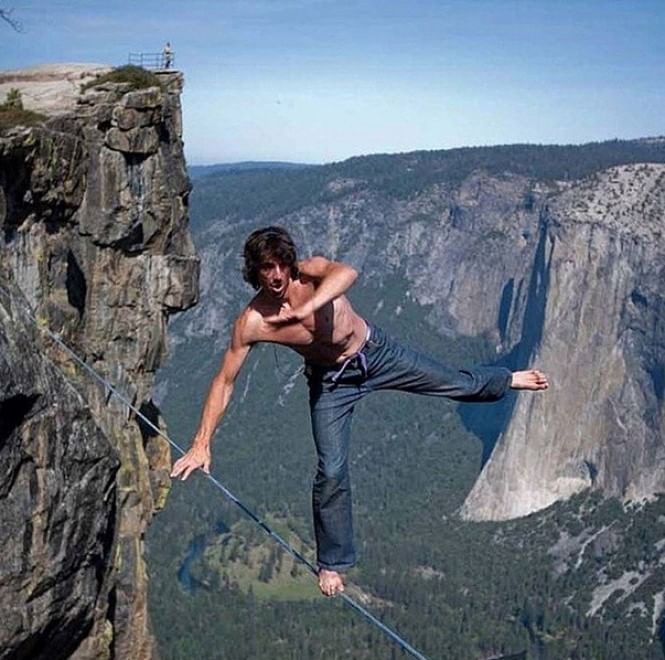 People often believe that I am not afraid, but it is easy to see in the pictures above my jumps the strong emotions that I feel while calculating the risks.
Dean has often been called a visionary, an experimenter, a fearless, sometimes controversial … He accomplished memorable feats and is among the most popular climbers of america and the world.
It was a pioneer and a precursor to joining the thin bridge between flight and climbing, conceiving the "freebase".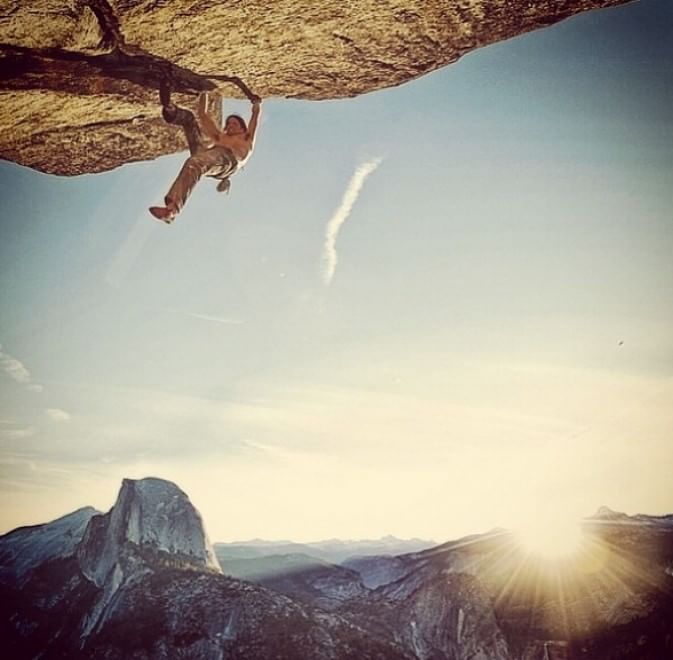 There are many memorable achievements made throughout the world with particular attention to Yosemite and the deserts of Moab or Patagonia.
Certainly, however, are legendary his solitary without rope, such as those on, Separate Reality Astroman, Dog's Roof, The Rostrum, on the beautiful route Heaven. Legendary as well as his speed climb, unique and unrepeated:
1999, a feat till then unthinkable, El Capitan and Half Dome in solitary and in less than 24 hours;
2001, together with Timmy O'Neil Potter, the first ascent within a day of three Yosemite big walls of Half Dome (Regular Route), on Mt. Watkins (South Face) and El Capitan (The Nose), improving then his own record in 2010.
Potter has gone up in Patagonia, where he made the first solo of the Supercanaleta route on Fitz Roy, followed by a fast repeat solo of the compressor route on Cerro Torre climbed in 11 hours starting from the glacier. Definitely stands out among others the first ascent of California Roulette (VI 5.10 + WI5) on the west wall of Fitz Roy; done alone in 9 hours and 50 minutes, then Potter explained:
At the top, I knew that was my best climb. It was the greatest, harder thing than I ever have, but also the purest thing.
The pursuit of "purity" brought Potter also experimenting Base jump. After that he devoted himself to a discipline invented by himself: the freebase.
2005, after returning to Patagonia to make the jump from Pillar East of El Mocho, began to devote himself to Base jumping.
2008, has made one of his most daring jumps that perhaps more hit the collective imagination: Deep Blue Sea on the north face of the Eiger in Switzerland, a 300 m with difficulties up to 7b+.
His climb of Delicate Arch, the symbol of Arches National Park, caused a debate. But Potter has continued to remain true to his ideas that were transposed by a wider audience and less expert than the community of climbers, so much so that in 2009 the prestigious National Geographic magazine chose Dean Potter as one of ten Adventurer of the year. In this regard, one must also mention its leggendarie highline, the first designed in every detail and performed at Cathedral Peak in Yosemite in 2011.
A very eclectic and legendary Man in every style of adventure! Charismatic, wild and highly true to himself, with a desire to live in all its excitement, gave us humble viewers unique images and videos, a REAL-SuperHERO.
(source planetmountain.com)